Investigations
When investigating a subject, time is money. You can spend hours determining where a subject owns property, whose name is on the lease, how long they've been the owner, and more.
To save time, you can outsource the work, which is a convenience that can cost you hundreds of dollars.
With the ParcelDocs database, you can have the best of both worlds – easy-to-access, reliable property data for the lowest rate in the industry.
For a flat monthly fee, get unlimited access to data on 99 percent of properties in the United States.
Search by name and state and check multiple states for no additional fee. Want to search the whole country at once? No problem. Contact us to find out how.
After you find the properties you need, ParcelDocs makes it easy to order courthouse documents that are delivered right to your desktop in seconds.
Need historical documents? We have those, too. When you're writing your final reports, including supporting documents adds a level of professionalism and increases your client's confidence in your abilities as an investigator.
Time is money. With ParcelDocs, you can have more of both.
ParcelDocs.com is a proud partner of NCISS.
We offer all NCISS members FREE monthly subscriptions as long as they are members in good standing of NCISS.
Completely free searching, only pay for documents!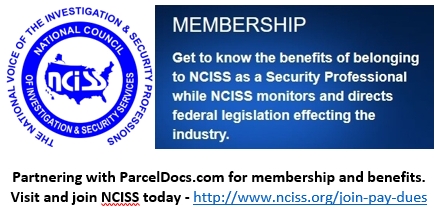 All you have to do to take advantage of this incredible offer is email us after you sign up for your free trial.
We will verify your membership in NCISS and confirm with you that your account is now set up for a FREE monthly subscription.
A $120 value PER YEAR!